Professional Plumbing Tools
Professional plumbers rely on a variety of specialized tools to effectively diagnose and repair plumbing issues. Plumbers often have a wide range of tools specific to their trade, allowing them to handle various plumbing tasks efficiently and effectively.
Here are some commonly used professional plumbing tools:
1. WEST BAY Sewer Jetter Kit 100FT for Pressure Washer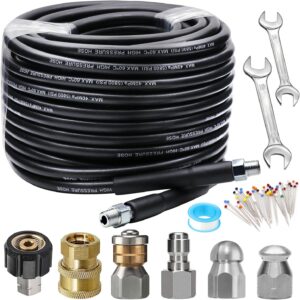 Inner tube, reinforcement, and a cap are all on the sewer jetting hose. Polyester thermoplastic is used to make the inner tube. 1/4″ chemically bonded high strength polyester textile braid serves as the reinforcement layer. The cover layer is constructed of thermoplastic polyurethane, which is resistant to ozone, weather, oil, and abrasion.
4.0 The Button Nose Sewer Jetter Nozzle uses three rear 33° spray jets and a front 0° spray jet to remove blockages and flush out debris.orifice 4.5 Jet Rotating Sewer Three spray jets spinning rearward from the nozzle clear out debris and provide an even cleaning as they blast into congested pipes and transport it through the pipe. 1 sideways water spray that unclogs obstructions at the corner. 3 rear jets at a 33° angle flush out any debris that the front jet has freed.
When high pressure connections are repeatedly made or dismantled, Quick Connect Plug is usually used. Perfect for speedy pressure washer outlet, sewage jetter hose, gun, and nozzle exchange. Each time a fast coupler is used, a strong connection is made.metric M22 14mm female NPT thread to 1/4″ female NPT using a pressure washer coupler.
Cars, motorbikes, floors, windows, driveways, roofs, siding, sinks, toilets, outdoor spaces, indoor spaces, and more can all be cleaned with high pressure washer hoses. Two spanners are ready for quick installation of the coupler or nozzle, one package of pearl corsage pins can be used to clear obstructions in the nozzle, and waterproof tape can stop water leaks.
2. POPULO Electric Drain Auger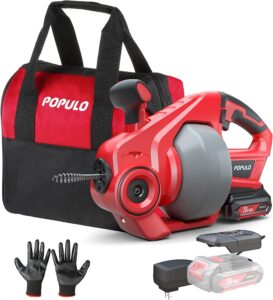 Easy to use Changeable 20V Battery and Flexible Cable (7.5mm), drain clog removal snake.
Energizes for a longer running time. Battery fuel gauge makes it simple to determine how much power is remaining and when recharging is required. You can modify the speed freely to suit different projects by applying different forces to the switch to adjust the speed up to 560 rpm. The lithium-ion battery pack is interchangeable with other tools that are a part of the Populo 20V Max System.
25 feet of 7.5mm reinforced flexible cable It is modifiable! Easily removes obstructions from drains that are 3/4 to 2 inches wide, including those in sinks, toilets, and bathtubs. Powerful forward and reverse feeding mechanisms automatically feed the cable down or back drains, and the cable lock option secures the cable while removing stubborn clogs.
Better working conditions are produced by rubberized grip handles that provide comfort and control. Increased visibility and precise control are provided by an integrated LED work light. An internal back drain port keeps the drum from getting too wet.
3. RIDGID 19238 NaviTrack Scout Locator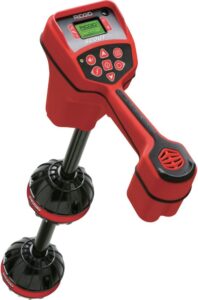 Use with SeeSnake inspection reels or other sondes for optimal results. Compact design with the ability to easily solve the most difficult underground locates for those wanting SeeSnake cameras, remote transmitters or flushable sonde transmitters, target pipes, cables, or electrified lines.
By simply increasing the signal strength, you may locate the target without worrying about false peaks or nulls because the antenna continuously perceives the complete signal coming from any direction.
Features Digital readout provides real-time signal strength with no false peaks; micro-mapping to surround the target, on-screen markers, and automatic depth calculations for quick, simple, and more precise locates. 4 Sonde and 5 Line trace mode frequencies.
Locate position is confirmed using micromapping, and it displays on-screen markers of recognizable poles in front of and behind your objective with depth computation that automatically appears when over the target, effectively directing you.
The Locator comes with surface marker chips, an instructional film, an operator's manual, four C-Cell batteries, and a carrying case for easy jobsite transit and protection.
4. MAXPOWER 14-Inch Pipe Wrench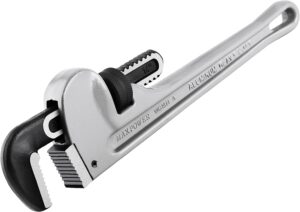 Aluminum 14-inch straight pipe wrench with clamping power 350 mm overall length, up to 2 inches
This aluminum pipe wrench, which is about 40% lighter than a standard iron pipe wrench of the same size, offers exceptional durability and is lightweight for simple travel.
This plumber's pipe wrench is convenient for use in domestic plumbing maintenance and repairs and may be used to tighten and loosen threaded pipes of all types.
Straight pipe wrench contains interchangeable hook jaw and spring assembly, covered self-cleaning threads, serrated jaw, and adjustable nut. It is not advised to use this wrench as a hammer.
MAXPOWER pipe wrench with I-beam handle for firm grip and quick adjustments; maximum torque exceeds ANSI standards.
5. MR.SIGA Toilet Plunger and Bowl Brush Combo

The item comes with a powerful toilet plunger, a high-efficiency toilet brush, and a two-compartment sturdy holder. Keep your bathroom tidy, clean, and well-organized with a space-saving, elegant design and practical storage.
Built with a commercial-grade rubber suction cup that offers maximum plunging force to unclog stubborn jams in sinks, shower drains, and toilet bowls. The secure and comfortable grip of the ergonomic handle enhances the effectiveness of your plunge.
The dense nylon bristles give comprehensive and deep cleaning of the under-rim area and those difficult-to-reach places. Strong bristles are not easily distorted, they are inexpensive and practical. You will have a revitalizing cleaning experience as water effortlessly flows from the bristles into the stable holder.
Compact, space-saving design conceals your toilet brush and offers a handy place to store it. Excellent for both domestic and business use.
6. GOFLAME Ratchet Pipe Threader
The multi-purpose set's more comfortable parts and thorough ergonomic design let you fully experience the delight of threading.
It is the ideal tool for the pipeline, equipment installation, and construction industries to guarantee project quality, boost productivity, and lower labor intensity. Its head is made of malleable cast iron, which is strong and resistant to wear over an extended period of time.
This set is easy to transport and store because of its modest weight—about 13 pounds—and the fact that it comes in a red plastic box.
This wrench is designed to greatly simplify the task. Save as much time and effort as possible while working. Put a tidy thread on your pipes by using this expert ratcheting pipe threader. The plate head's thread is neat and difficult to skid.
7. XFasten Self Fusing Silicone Tape Black
It is the best self-fusing silicone tape for emergency repairs in automotive, plumbing, marine, hose, electrical, indoor, and outdoor applications because it resists melting up to 260°C (500°F).
For high pressure pipe leaks, silicone rubber's 900 PSI tensile strength capacity gives it outstanding water and air tight sealing performance.
High heat, solvent, chemical, and corrosion resistance; complies with ISO 9001 and UL 510 standards for industrial grade sealing applications.
Flexible, stretchable, and able to withstand temperatures as low as -50°C (-60°F), tight corners, and frigid conditions.
Resists melting, weathering, and tearing by effectively dissipating heat generated and insulating up to 600 volts/mil.
8. Wostore 180 Degree Tubing Bender
On three different sizes of tubing—1/4″, 5/16″, and 3/8—one tool performs better. bending thin stainless steel pipes at an angle of 0 to 180 degrees for the installation of air conditioners and auto repairs.
Wide, comfortable hook grips that are ergonomically designed and fitted with long, non-slip knurled grip handles enable you to provide the best working conditions.
180° design with high visibility markers. Be careful not to dent or collapse your tubes. a strong, long-lasting alloy of high-quality machined aluminum.
9. Elitech WJL-6000 Freon Leak Detector

R22, R134A, R404A, R410A, and all halogenated refrigerants, including HFCs, CFCs, HCFCs, and blends, set off the Freon leak detection.
Response time is 3 seconds, while warming up takes six.
The maximum sensitivity is 0.21 oz/yr and is adjustable.
Gas leak detection devices with audio and visual cues and dual battery indicators.
10. Thorstone Double & Single Flaring Tool Kit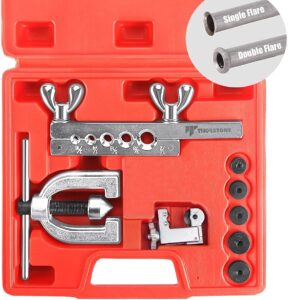 The Thorstone double flaring tool set is made to make 45-degree double or single flares in brass tubing, copper, aluminum, magnesium, soft steel brake lines, and other suitable materials (hard materials, such as steel and iron, are not suitable).
All of your demands are met by 1 flaring cone, 1 flaring bar (flaring yoke), 1 tube cutter, 5 adapters, and 1 blow-molded box for convenient storage and transit.
Premium heat treated steel is used in the construction of the flare bar and forged yoke for strength and longevity. To reduce friction, the chrome swivel is made of alloy steel.
The flare tool is adaptable, with 5 sizes of adapters (3/16″, 1/4″, 5/16″, 3/8″, and 1/2″) and a cutter for 1/8″-5/8″ pipe. It can be utilized for things like brake lines, brass air conditioner lines, HAVC, and more.
11. AstroAI Digital Tire Pressure Gauge with Inflator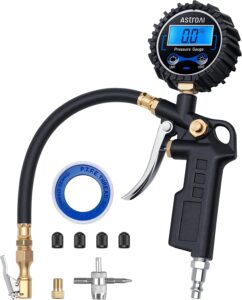 Professionally calibrated to consistently provide an accurate reading that is within 1% of the precise tire pressure. Measures precisely between 0 and 250 PSI (0 to 17.2 bars, 0 to 1724 kpa, and 0 to 17.5 kg/cm2).
Tires that are properly inflated perform better in all types of weather, reduce the chance of flats, explosions, and collisions, increase your MPG, spend less on fuel and tire wear, and make driving safer.
Tire pressure gauge with AstroAI Containing an inflator, a straight locking chuck, a gauge, a hose, and a bleed valve, this unit can deflate tires, inflate them, and check their pressure. compatible with the outputs of 14″ and 12″ NPT air compressors.
Our inflator offers enduring dependability and performance since it is constructed with sturdy stainless steel and high-quality brass components. The inflator can bear pressure from automobiles, trucks, motorbikes, SUVs, off-road vehicles, recreational vehicles, trailers, and more thanks to its leak-proof lock-on chuck.
When pressured air is sensed, automatically turns on and off after 20 seconds of inactivity.
Also Read: Best Portable Line Boring Machine
Image credit: Amazon.com