Outdoor Power Equipment Parts & Accessories
When it comes to outdoor power equipment parts and accessories, there is a wide range of options available to enhance and maintain your equipment. Regular maintenance and proper usage of outdoor power equipment will help extend its lifespan and ensure optimal performance.
Here are some common parts and accessories for outdoor power equipment:
1. ZTR-TR Zero Turn Lawn Mower Trimmer Rack
Attaches a trimmer to a lawn mower.
Adjustable parameters for a personalized fit.
Trimmer is stopped from spinning by a quick clamp.
Always keep a trimmer with a lockable pistol lock close at hand.
For roll bars bigger than two inches, you need a separate u-bolt.
2. 2WAYZ- Hose Splitter
Long (4 cm) handles on the two-way garden hose splitter provide smooth and simple shut-on and shut-off. The rubber coating on the splitter makes it the perfect tool for arthritic or stiff hands. No tools are required for an easy and perfect installation; all that is required is a fundamental understanding of how spigots and hoses function. Additionally capable of 360-degree rotation, the water hose splitter enables you to pull and drag on hoses in any direction.
Leaks will be a thing of the past thanks to the long, smooth thread with the rubber ring at the female end. Working with the y garden hose splitter is simple in all weather conditions thanks to the full rubber cover.
When you try to connect a new water hose to your faucet, does it scrape your knuckles because it is too deeply set into the home wall? You can move around more easily if you use this hose extension. Since this spigot extension will enable you to fit the bucket beneath the now-extended faucet, you can also start filling buckets and watering cans from the spout.
With this ground-breaking design, the 2WAYZ garden hose splitter was the first heavy duty hose bib.
3. Westinghouse Outdoor Power Equipment 1/4" Connector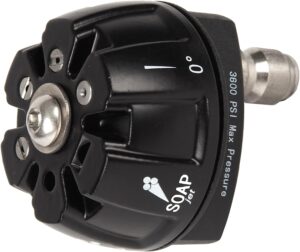 When various applications are required, the 6-in-1 design allows you to quickly switch between the usual rinse, soap, 0°, 15°, 25°, and 40° nozzles, accelerating cleaning.
Pressure washing is now hassle-free since managing small individual nozzles is a thing of the past thanks to the introduction of one simple attachment.
This attachment can supply the power you require without failing at your most crucial moment because it can endure up to 3600 PSI.
This pressure washer hose has a 1/4″ universal fast connection and may be used with most pressure washers without the need for additional adapters or fittings.
4. SWIPESMITH Electric Pressure Washer
The SWIPESMITH pressure washer has a low energy consumption, high efficiency copper core motor to deliver astounding 1800W power and up to 3000 PSI of pressure. This water pressure machine is a wonderful choice for usage on your home, driveway, patio furniture, car, painted surfaces, and more because to its higher and greater pressure.
Four quick-connect metal spray nozzles (0, 15, 25, and 40 degrees) and a foam cannon are included with the SWIPESMITH power washer, which can be used to clean everything from small areas like gaps in sidewalks or driveways to huge ones like car windows. To create rich foams and wash the automobile with a stronger cleaning impact, add additional detergent to the foam cannon.
To prevent electric shock, the electric power washer's copper-core motor has overheating prevention. Second, a safety lock and the Total Stop System guarantee secure operation and stop kids from mistakenly pulling the trigger. Third, a GFCI plug is included on a power cord to prevent electricity spills.
With a 20-foot hose and a 35-foot power chord, the SWIPESMITH electric pressure washer overcomes the limitations of the environment and makes it simple to clean up an area. It can also accept water from a bucket or water faucet.
5. Greenworks 24V 12 inch Cordless String Trimmer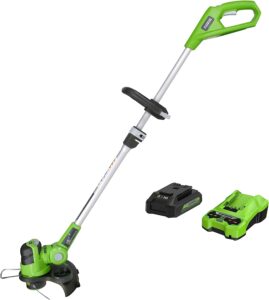 Auto feed head for a 065″ line allows for rapid and simple line advancement.
Edging wheel-equipped 90-degree rotating head. Telescope shaft and three-position pivoting head both adapt to the height and posture of the user.
Enables you to adjust cutting speed as you're using it, making it easy to maneuver around plants and shrubs.
Reduced user fatigue is made possible by the ultralight design and improved ergonomics. A 2.0Ah included battery may be recharged in 60 minutes.
There are no gas, oil, or fumes from this string trimmer, therefore maintenance is essentially nonexistent. It starts up quickly, is quiet, and provides the necessary amount of power.
6. Sun Joe SPX3000 14.5-Amp Electric High Pressure Washer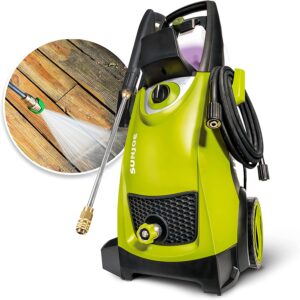 A 14.5-Amp, 1800-watt generator motor.
Take on a range of cleaning duties for residences, structures, RVs, automobiles, trucks, boats, decks, driveways, patios, lawnmowers, and more. Removable tanks transport and store various types of detergent in two 0.9 L onboard tanks to do multiple cleaning tasks at once.
When the trigger is not pulled, the pump automatically shuts off to conserve energy and extend pump life.
Please make sure that all hoses and cleaner connections are correctly and securely attached to guarantee a fully functional washer.
7. WORX WG896 12 Amp 7.5″ Electric Lawn Edger & Trencher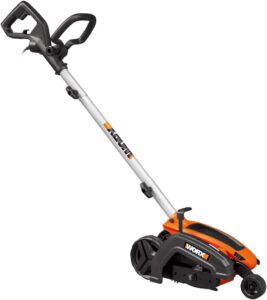 With 4700 rapid rotations per minute, the 12 Amp motor spins the 7.5″ blade quickly and deeply to give you lines and edges that appear professional.
Depending on the task at hand, cut down at 1″, 1-1/4″, or 1-1/2″.
Use the cutting line guide to stay on course; once you're finished, you'll see the difference.
With the adjustable shaft and D-grip handle, users of any height can find a length and comfortable position that works for them.
8. Somorei Electric Handheld Cordless Leaf Blower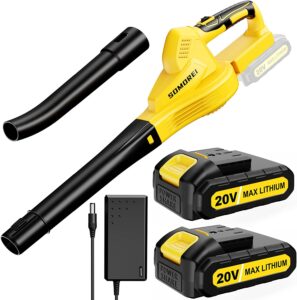 You can easily pick up leaves or other debris from your driveway, patio, porch, and deck with a handheld mini leaf blower that weighs just 3.4 lbs.
A cordless blower with two batteries and a runtime of up to 100 minutes on low and 20 minutes on high is more than plenty to clean the garage, yard, and sidewalk.
Electric leaf blowers are effective at moving flowers, dust, grass, snow, and pine needles away from the home at speeds of up to 140 CFM and 130 MPH.
Insert the battery, snap on the tube, then press the start button. Small leaf blowers can be carried outside or stored in a small space within.
Household rechargeable leaf blowers for gardens are employed in cars, construction sites, campgrounds, shops, and depots due to their excellent agility and durability.
9. SnapFresh Leaf Blower
Voltage 20 Volts, Handheld Form Factor, Electric Special Feature, and 130 mph.
People of all heights would have pleasant use with adjustable blowing tubes.
With just 2.7 pounds, the SnapFresh Cordless Leaf Blower is light enough to be lifted with one hand.
By just sliding the gear switch, you may change the speed option from 130 mph to 65 mph.
10. Dragro Electric Cordless Weed Wacker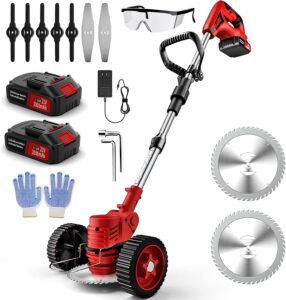 Cordless lawn trimmer by Dragro High-power pure copper brushless motor, 18000 rpm engine speed, and 2000 mAh high-capacity 21V battery are all included. Runtime is up to 40 minutes. Battery-powered weed trimmer Only 5 pounds in weight, the lightweight design is simple to use for both women and the elderly. Work with two control switches is safer.
You may accomplish a variety of difficult tasks with the aid of the electric lawn mower's three distinct types of blades. Mowing soft grass is best done with plastic blades, trimming weeds and small shrubs is best done with stainless steel S-blades, and cutting heavier shrubs, branches, and saplings is best done with circular saw blades.
The push mower with wheels has an adjustable rod that can be freely moved from 90 to 120 centimeters. By freely moving the armrest, we may work in the yard with more comfort and balance. The grass cutter machine's head angle can be changed from 0° to 90° to cut incline turf or difficult-to-clean nooks.
You may cut grass anywhere since cordless grass trimmers are not constrained by cables. Design that folds up and fits in the trunk. Wheels are detachable, making it simple to switch from a lawn trimmer to a wheeled lawn mower. Weeding is as simple as walking, increasing productivity and reducing time and effort required.
Also Read: Measuring Tools
Image credit: Amazon.com