Best Educational Toys for Kids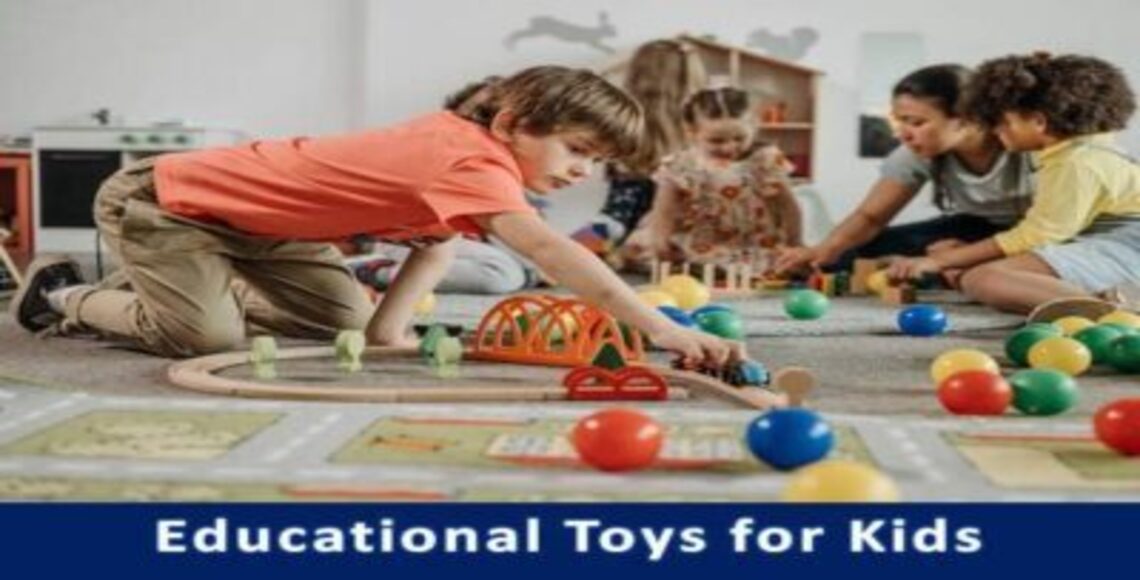 Educational toys for kids entertain children a longer period of time. Your child is an innate learner, so the educational toys are ones that he can use to learn while still enjoying and playing with them. Kids could start out in reading, math and science with the help of these toys. Finding the best educational toys for kids might even inspire your child and spark a passion that will last a lifetime.
Your child is more likely to learn something from toys that pique his interest. Look through the entire list of educational toys for kids to determine which can enhance your child's IQ the most because every child is unique. The best educational toys for kids listed here are some of the newest and coolest options for children of all ages, from babies to school-aged children.
1. Einstein Box Science Experiment Kit For Kids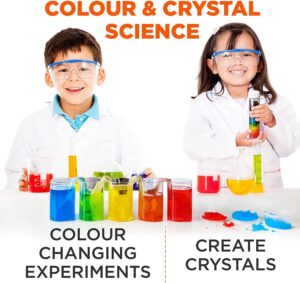 Easy-to-follow instructions and video guidance are provided for 100 experiments. This kit will keep your youngsters entertained for hours as they experiment like actual scientists in a lab!
Your child will learn how to complete the science experiments using the comprehensive manual's step-by-step directions. Each experiment is simple to carry out and a tonne of fun!
The chemical components were purposefully placed in separate, leak-proof vials. Children can simply carry out the experiments repeatedly without making a mess!
This kit complies with ASTM F963-17, the U.S. safety standard. Children 8 years old and older would love it as a present!
2. Insect Lore – Butterfly Growing Kit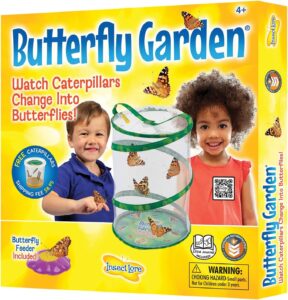 Pop-up, reusable 11.5-inch tall mesh habitat perfect for butterfly viewing; includes feeding dropper and complete instructions
Witness one of nature's most spectacular transformations up close
Shipping: live caterpillars are shipped to destinations within the continental USA and Alaska.
3. Melissa & Doug Wooden Take Learning Toys for Kids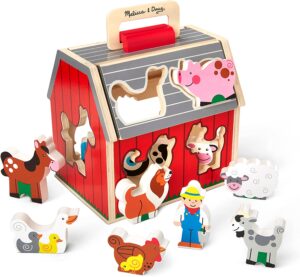 In the wooden sorting barn with handle for mobility and flip-up roof for easy access, insert 10 wooden farm-themed play pieces into the holes.
Chunky components stand up for imaginary play; playset includes a horse, pig, goat, sheep, chicken, dog, cow, tractor, and farmer.
encourages imaginative play, matching and sorting, and fine motor skills. suitable for children aged 2 to 5 who are toddlers and preschoolers.
4. Lite Brite Ultimate Classic, Light Up Creative Activity Toy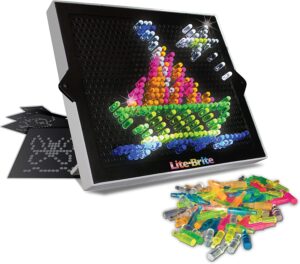 206 total pegs in 6 distinct colours are included to spark your imagination and encourage creativity.
Use one of the six design templates or your own creativity to make light art!
4 color-changing patterns (white light, alternating flash, all-flash, rotating flash) will illuminate your artwork!
Battery-operated LED lamps illuminate the screen for a colourful display of your artwork while remaining cool to the touch.
Encourages imagination and aids in the improvement of fine motor and hand-eye coordination!
5. ThinkFun Gravity Maze Marble Run Brain Game and STEM Toy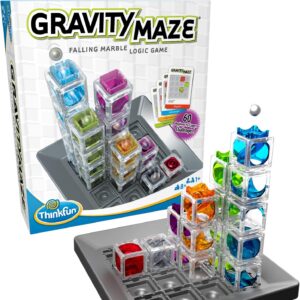 ThinkFun is the world's top manufacturer of brainteasers and mentally taxing puzzles, with over 50 million units sold.
Planning and spatial reasoning skills are developed as you progress through the difficulties.
One of the best presents you can get for children aged 8 and up is the STEM toy Gravity Maze, which combines a marble run, logic game, and marble run. It comes with a gaming grid, nine towers, one target piece, three marbles, and 60 challenges ranging from easy to difficult.
With a well-written, straightforward instruction manual, learning is simple. You can immediately begin playing and solving.
6. LeapFrog LeapPad Academy Kids Learning Tablet
Enjoy a kid-friendly Android tablet that comes preloaded with 20 educational apps and tools for creativity made by LeapFrog learning specialists.
Visit kid-friendly websites and watch kid-friendly videos using LeapSearch, LeapFrog's kid-friendly web browser.
Parents can download well-known Android apps or select from hundreds of games, apps, videos, and songs from the LeapFrog App Centre (available separately).
3 to 8 years old target audience; includes rechargeable lithium ion battery.
7. LeapFrog LeapLand Adventures
Early children may learn about letters, numbers, shapes, and colours while searching for keys to enter Clever Castle in this educational video game.
There is no need to download anything or set up an account when you connect the HDMI game stick and USB power cable to the TV and start playing right away using the wireless controller.
Select one of two characters to play as as you explore replayable game levels; up to five players can save their own game progress.
The instructional content of the Learning Centre, designed for children ages 3 and above, allows children to explore 150+ learning objects at their own speed.
8. LeapFrog Learning Friends 100 Words Book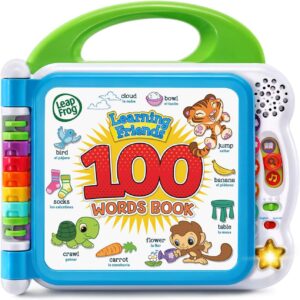 Meet Turtle, Tiger, and Monkey, three learning buddies who will introduce more than 100 age-appropriate vocabulary.
Pets, animals, food, meals, colours, activities, opposites, the outdoors, and more are among the word categories. Words, sound effects, and interesting facts are played as you touch the words on the pages.
For a fully multilingual experience, words, songs, and directions can be heard in both English and Spanish. Kids for 18+ months.
9. LeapFrog Mr. Pencil's ABC Backpack
Open for interactive learning activities with a write-and-erase board and 26 letters. Seven exercises introduce writing, drawing, letter names and sounds, and animals.
View the letters on an LCD screen, hear their names said, hear an animal whose name starts with that letter, and more.
Join Mr. Pencil as he introduces letter writing and transforms the letters into drawing-friendly animals on the writing board. intended for children 3 and up.
10. Coogam Wooden Blocks Spinning Alphabet Learning Toy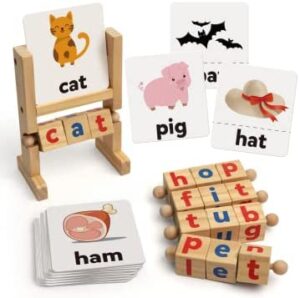 A wooden tray and five handheld sets of rotating blocks with movable 3-letter word blocks are included in this wooden spelling toy. Along includes 48-piece flash cards for sight words. suitable for training extremely fundamental reading abilities.
The wooden letter blocks and tray are made of sturdy, kid-safe natural wood. The finest toys to give to boys and girls older than three are educational ones.
Place the card in the wooden tray's slot. Collapse the cards to hide the words in the picture. Then, using the wooden letter blocks, spell out the words in accordance with the prompts on the sight words flash card. Toddlers who play with Montessori educational toys have significantly improved memory abilities and brain development.
The matching letter game will keep your kids off screens for a significant amount of time. Toddler learning cards with colorful, appealing graphics are more likely to capture children's interest.
Image credit: Amazon.com